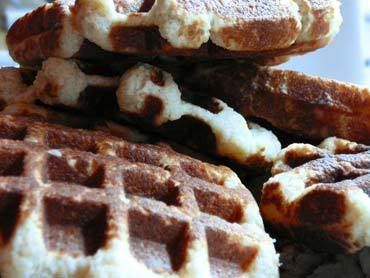 I love to make food from all different parts of the world and I have heard of gaufres before and decided that I would find a recipe...

These sweet delicacies are so popular in Brussels, Belgium that you can find a waffle stand on almost every corner! You should never eat these like a regular breakfast waffle, these are more like a snack and the most you should do with it is maybe sprinkle a light dusting of confectioners' sugar on them and eat them plain.

This recipe was too loose and a friend of mine from Brussels told me it should be like a soft bread dough almost. So, I made some changes to the recipe that I found and they turned out great!

Serves 4

SPONGE:

2 packages ( 1/4 ounce each) active dry yeast
1 1/3 cups warm milk
1 3/4 cups flour
1 tablespoon granulated sugar
1 egg, beaten to mix

1. In a small bowl, sprinkle the yeast over the milk. Add 1 tablespoon of flour and the sugar; set aside for 5 minutes or until foamy.

2. Sift the remaining flour into a large mixing bowl. Make a well in the center and add the yeast mixture and egg. With a wooden spoon, stir well to make a smooth batter.

3. Cover with a clean kitchen towel and set aside in a warm place for 2 hours to rise until the batter has doubled or tripled in bulk.


DOUGH:

9 tablespoons butter, at room temperature
2 cups flour, give or take until you get the texture of a non-sticky smooth dough
1 teaspoon vanilla extract
1/4 teaspoon baking powder
Pinch of salt
2 tablespoons granulated sugar
3/4 cup pearl sugar, or white decorating sugar, or raw sugar
Extra flour (for sprinkling)

1. In a bowl with a wooden spoon, work the butter, vanilla, baking powder, salt, granulated sugar, and pearl sugar into a paste.

2. Work the butter mixture into the sponge mixture until well combined. Slowly work your flour into the dough until you get the consistency of a non-sticky light and fluffy dough. Cover, and set aside for 10 minutes.

3. With floured hands, shape the dough into 10 balls. Flatten one slightly and dust it with flour.

4. Heat a waffle iron until medium hot. Place a flattened ball in the middle of the iron; close the top. Cook for 3 to 5 minutes. If the waffle iron is too hot, the sugar will burn. Some electric waffle irons bake on such a high temperature, it may be necessary to unplug the waffle iron intermittently to cool it off. Continue baking until all the waffles are done.